G-BOPO NOW AIRWORTHY!
The Restoration of G-BOPO, a/c 021
Until very recently G-BOPO, a/c 021, was kept in a hangar at North Weald. After the aircraft was bought by AeroElvira it was transported to a new home and is now being restored, with completion targeted for mid 2008.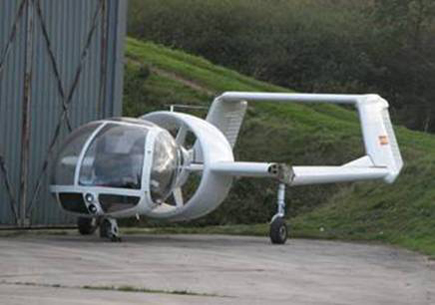 Saturday March 8th 2008:
G-BOPO sits in the workshop being painstakingly reassembled. The inside of the engine pod is being prepared for receipt of the newly overhauled engine.
Optica in Workshop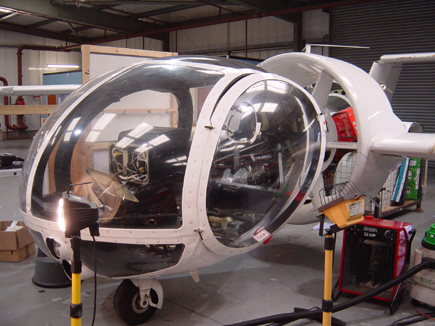 Fan ring-frame being prepared for 'blueboard'.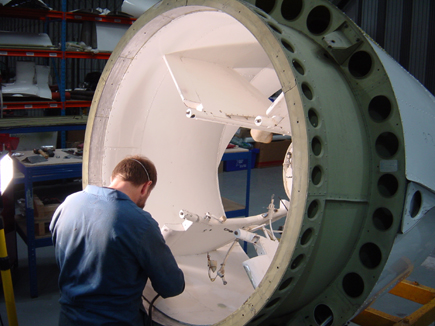 Saturday March 22nd 2008:
G-BOPO's wings are being reassembled, with empannage checked and fitted all that remains of the Starboard wing is to hang it on BOPO's fuselage, fit the fuel tank (a separate piece) and perform a quick re-spray. The Port wing is awaiting a similar treatment.
Saturday April 6th 2008:

G-BOPO's wings are completely reassembled and are being moved to a paintshop for a respray, as is the tailplane. The pod is being prepared for the newly restored engine as is the fuselage. All the old Spanish markings have been removed and a new set of placards etc. is being collected to replage the old.

Saturday May 10th 2008:

G-BOPO is now superficially complete: the wings are attached and being rigged; the engine and fan have returned from overhaul and are being prepared. The new leather interior for the aircraft has also arrived and is nearly ready for fitting. If work continues at this rate it will be a matter of weeks until the aircraft is completed for a CAA survey.

Saturday May 31st 2008:

G-BOPO is now superficially complete, the wings are on, the pod is attached and the engine has been run. All the work that remains before the CAA surveyor arrives on Wednesday is to carry out some minor composites repair, fit some new panels and install the cabin seats and trim.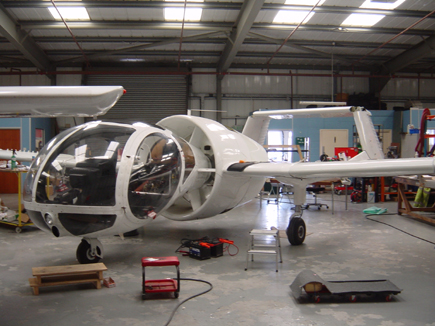 Wednesday June 4th 2008:

G-BOPO has made its first flight, under the control of CAA chief test pilot Chris Taylor. This is the first flight of an Optica in Europe for 12 years, since G-BOPO stopped flying in Lanzarote and was put in storage. Hopefully G-BOPO will pass with flying (literally) colours.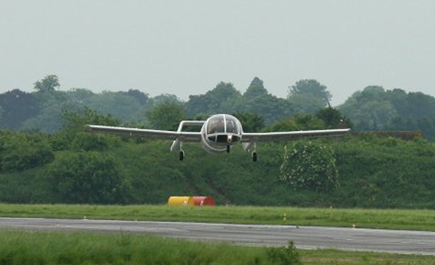 Friday June 6th 2008:

Its OFFICIAL! G-BOPO has passed all the requirements of the CAA and now has a full certificate of airworthiness. Now Europe's only airworth Optica G-BOPO should become a popular sight at Airshows and Fly-ins around the country.